Property Management Software UK
Ultimate Guide To Software
For Estate Agents & Property Managers
An Essential Read For Agency Owners That Want To Hack Productivity, Process & Growth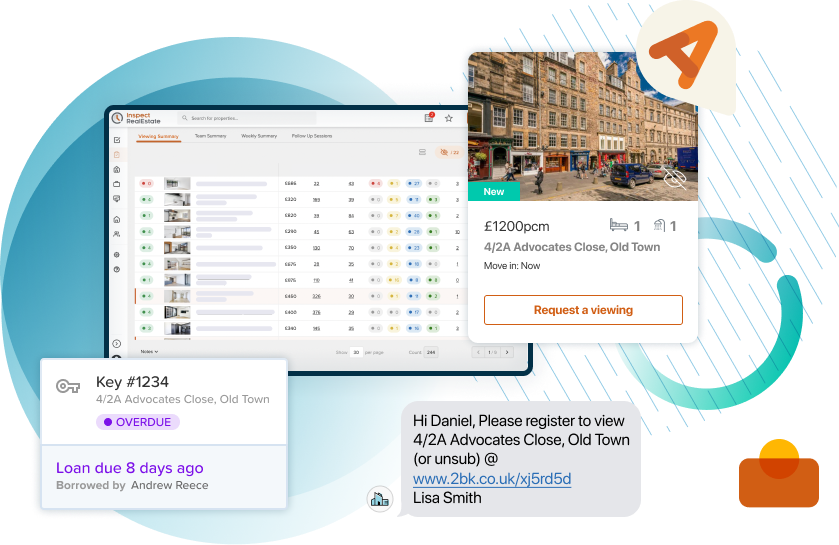 If you're a business owner keen to take your agency to the next level then investing in software that
automates and streamlines the numerous processes you and your agents deal with on a daily basis is essential. How do we know this? Our team have been there and done it. We're ex-agents with years of
market knowledge that have built IRE, a market-leading letting agent software that helps businesses like yours with core tasks such as business development, listing properties, managing keys and communicating with clients.
According to The World Economic Forum over 80% of business leaders report that they are speeding up work process automation and expanding their use of remote work.
In this ultimate guide to software for estate agents, we'll take you through everything you need to know about the best software for estate agents, how this software will advance and future-proof your business, what to look for when choosing a system and how to find the most flexible software package.

As professionals with years of experience in the property industry, we know most software solutions inside-out and our team are perfectly positioned to advise you on which system will work best for your business.


A Brief Intro To Estate Agent Software
So let's kick off with a simple one. What is agency software?
Generally speaking estate agent software is a type of customer relationship management (CRM) software designed specifically for estate agents and letting agents.
It covers every element of your day-to-day and helps you to manage your business, communicate with clients and tenants, list properties, and track leads. Some systems also include features such as automatic property valuation and marketing tools.
This type of software is essential for small and busy agencies who want to improve their efficiency and effectiveness. Without it you run the risk of becoming disorganised, losing track of important tasks, and struggling to keep on top of an ever-growing workload leading to less revenue, poor performance, & provide poor customer service which inevitably leads to poor reviews (not good when someone is looking for an agency right?)
That's why we designed IRE estate agency software. Our goal is to help you streamline your agency's operations, generate and focus on new leads and future-proof your businesses with our digital-first yet personal approach to the modern demands of the estate agency market.
5 Key Features Of Estate Agent Software
One of the key reasons why agency owners like you have chosen to adopt software like IRE is because it defines, streamlines and improves all of the processes involved from generating new customers to booking viewings. It really does handle everything for you up until the keys are in the door! To help you get to grips with how useful estate agent software really is we've broken down what we believe are the six essential features of letting agent software that you need to be aware of and that will help you to improve your business.Each feature corresponds to a real-life task or responsibility that you and your estate agents have to undertake on a daily basis including
Lead Generation
Client Communications
Enquiry Management
Key Management
Want to find out how our  software can help your business?


Estate Agent Business Development Management
Greasing the wheels of the business development machine is crucial in today's real estate market.
You need to be able to track every lead and quickly follow up on new business opportunities almost at the time of them being submitted.
Software like IRE lets you stay on top of all your lead gen efforts by responding to your leads any time of the day and night with the right communication, tone and brand persona that you would have done yourself. Plus you can automate marketing campaigns and send personalised emails and texts. It's a way to cut through the noise and is an unquestionable advantage for agents dealing with an increasingly competitive marketplace – immediacy!
Stages Of Estate Agent Business Development
Because a Business Development Manager (BDM) is such a critical role for growth for letting & estate agents we're going to break down each step and explain exactly how to find, nurture and win customers. The four elements of success in estate agent business development are:
Identifying leads & attract Qualifying leads
Nurturing leads
Converting leads into clients
Using software to help with this process will enable you to focus on doing what you do best – selling. Here's how.
Stage One: Identifying Leads
​Stage one is all about identifying who your ideal customer is and then finding where they hang out online and offline.
To do this, you need to create buyer personas. These are fictional characters that represent your ideal customer. Once you know who you're looking for, you can start to find them.
An example of a buyer persona might be 'Dan, a single, first-time buyer in their early 30s who is looking to purchase a one-bedroom flat in London. They like to go out on the weekends and are active on Facebook and Instagram. A typical night is spent with Netflix and a takeaway. He has a £50k deposit saved up for his next investment property"'
As you can see, now you have a clear picture of who you're targeting so you can start to think about where they might be found online and how to engage with them.
Tools like IRE's lead capture forms can help you gather data on potential customers so that you can start to build up a picture of who they are and what they're looking for. You can then use this data to send targeted marketing campaigns, so they get the right information at the right time in the right dosage too!
Stage Two: Qualifying Leads
The next stage is qualifying your leads. This is where you decide if a lead is worth pursuing or not. There's no point in spending valuable time and resources on a lead that's not going to convert so qualification is essential.
There are a number of factors to consider when qualifying a lead, including
Whether they are actively looking to buy or rent Their budget
The type of property they are looking for
Their location
And other opportunities that you help these future prospects with their next property journey
You should have a good idea by now of your target customer so qualifying your leads should be relatively straightforward.
The best way to qualify a lead is to have a conversation with them. This can be done over the phone, by email or in person. You can even use automatic email and SMS follow-ups to keep track of your conversations and make sure you never miss an opportunity. We recommend using bespoke questionnaires in the IRE platform that extract the crucial data on your future business relationships, which are crucial to understanding your clients' needs.
Similarly, if you're using IRE, you can quickly see all of this information in the lead profile which makes it easy to decide if a lead is worth pursuing and worth your time.
Stage One: Identifying Leads
Once you've qualified a lead, it's time to start nurturing them. The aim here is to build a relationship with the lead and turn them into a warm prospect that is ready to do business with you. Know. Like. Trust!
There are a number of ways to nurture leads, including
Sending them properties that match their criteria
Reaching out to them periodically with relevant information depending on where they found on your profile, business and or services
Inviting them to open houses and events
Adding them to your newsletter mailing list
The key here is to keep the lead engaged without being too pushy. Drip, nurture or sequence marketing campaigns make it easy to send automated emails and texts that are personalised for each lead so they feel like they are getting a tailored service.
Don't forget that it's common for it to take a number of communications before a lead is ready to buy, sell or rent or let, and by staying in touch you'll be top of their mind when they are ready to press go.
If you've got an office full of agents, you can also use IRE to create a sense of competition and keep everyone on their toes. The software's leaderboard feature lets you see who's generating the most leads and who's closing the most deals.
Stage Two: Qualifying Leads
If you've followed the other steps, your leads will be warm and ready to buy or rent from you. All that remains is to seal the deal! This is all about presenting yourself as an expert in your field who they can trust and do business with and who has a great track record of property sales.
IRE's CRM features will help you keep track of your interactions with each lead so that you can easily see when they're ready to do business. It's also a great way to build trust by referring to old notes and keeping track of what's important to them.
Steps that you can take to help get the deal over the line include
Send pre-listing information over, and make sure the information sets you up for success and other agents for failure
The listing kit MUST include a checklist of things each agent should be able to do to clearly showcase they are the best to let/sell the prospect's property (NOTE: this checklist highlights your USP which the others won't have, FYI, that's the IRE platform)
The valuation – always be well dressed, punctual, never slate the competition, and ask lots of questions to better understand your potential client's specific needs and requirements
Post valuation – keep in contact now in a more personal manner via phone mainly unless otherwise instructed, you've met them, you've built rapport, this is where the automation needs to take a back seat and allow your beautiful personality to win them over)
Ask for the business, you get it – WINNING!
If you don't, ask them why and if you have their approval to keep in touch with them should it not work out OR ask for the opportunity in the future
The final stage is to get the keys to the property and hand them over to the new owner or tenant. This is where your work as an estate agent really pays off!
With IRE, you can easily track properties through each stage of the sale or letting process so you have a clear overview of the stage each property is at and what needs to be done next.
IRE also allows you to add comments, photos and documents to each property so that you can keep all the relevant information in one place. A definite win in our book!
You need an effective system to respond to your customers
While lead generation is all about getting new business through to door, you need an effective system to respond to your customers (buyers/renters), follow them up, qualify them and all the other "grunt" work to rent and sell the properties right?!
This is because you often need to deal with multiple clients and properties at the same time which can quickly become overwhelming.
We've identified seven key steps in the enquiry management process which are:
Respond
When a lead comes in your need to be quick to respond. This builds trust and shows that you're attentive. Our branded enquiry management system delivers custom communications to your leads 24/7/365. Always be in form of other agents, you'll have booked them into your diary and shown them through before the other agent has even made contact!
Follow Up 


Once you've responded, you need to continue the conversation. This can be done through IRE's automatic email and SMS follow-up system making sure you only deal with motivated qualified applicants instead of the tyre kickers which is costing your business money to deal with.
Qualify
All agencies have a different 'perfect lead'. By using IRE's powerful filtering system you can quickly identify which leads are worth your time and focus on these, even have bespoke questions fo those corner cases where they want a unique type of tenant for their unique property
Schedule
IRE optimises your diary and allows qualified applicants to book into your viewing tours, delivering you with hot leads that are ready to go.
Book
With your leads scheduled in you need to keep up the comms with automated booking reminders to minimise no shows and a smart calendar that will refill cancellations for both applicants but also for your occupants.
Communicate
Communication is key in this game so whether you're sending new instructions, offers or even if you're running late you can keep everyone on the same page with event-triggered messages.
Following these guidelines will help you to manage your enquiries effectively and ensure that you're making the most of your time by only speaking with qualified leads that align with your target persona and are in the market for your services.
Enquiry management software often has many features given it's an essential tool for any estate agent looking to stay organised and efficient. With features like scheduling appointments and sharing information with colleagues, IRE's enquiry management software is the perfect solution.
You can easily manage and respond to multiple enquiries using automation at the same time while booking and communicating with clients to schedule appointments and confirm bookings. The key features we've built are:
S

yncs With the Agents'

C

alendars

Allows

P

rospective Tenants

&

B

uyers To

B

ook

V

iewings

D

irectly

Incorporate

Y

our Own

B

randing

C

omplete

C

ontrol Over The

P

latform's Automated

C

ommunications

–

your business your way

!
From our work with other agents, we've found that automating tasks like these can save each of your agents up to 4 hours per day per Negotiator, freeing them up to work on more productive tasks that will bring in business.
C
lient
C
ommunications & Tenancy Management
Tenants are the lifeblood of any rental business. That's why it's so important to have a good system in place for managing them.
Using estate agent software will give you all the tools you need to find and manage your tenants, from listing properties and taking applications to processing payments and maintaining records.
With an all-in-one solution, it's easy to stay on top of your tenants and you can quickly see who owes rent, when leases are up for renewal and which properties need repairs.
You can also use software like IRE to automate many of the tasks that come with managing tenants, such as sending reminder emails and texts about rent payments and maintenance issues. It's these manual tasks that take up your time and IRE is designed to help you win back that time by automating the process.
Estate agency key management software is a must if you want to keep track of keys for multiple properties. It allows you to issue, return, and track keys easily and efficiently. That's why it's an integral feature in IRE along with some added features.
The Importance Of A Key Tracking System
Being organised is key (pun intended) to any successful business, but it is especially important for estate agents. This is because you are dealing with people's homes – one of their most valuable assets.
If you misplace a key or lose track of who has what, it can reflect badly on your business and damage your reputation.
A key management system helps you to avoid these problems by keeping track of keys and who has them. This way, you can always be sure that the right keys are with the right people at the right time.
Types Of Key Management Systems
There are three main types of key management systems which are generally used by estate agents which are key cabinets that are used within their agency online key management software, and the written key log book, uugh
Key cabinets– these are physical key safes that you can physically access. These are often used by estate agents with an office location, as they are cheaper and provide basic key management functionality.
The benefits of key cabinets are that they're quick and easy to set up, and many offer a higher level of security than using a physical lock box on site. However, they are not suitable for companies that manage multiple key sets, with large portfolios and larger volumes of staff transacting in keys daily.
Online key management software – these systems allow you to manage your keys remotely via an online dashboard. They offer more security and accountability than physical key safes, making them a better option for larger, multi-site estate agents.
Key books are the more commonly used tracking method for agencies, along with the software method, but undoubtedly the worse for your client's assets security. Key numbers that are aligned with addresses, all that takes is someone to swoop the keys and the book and there is a nightmare that won't end!
Online key management software is popular with estate agents because it delivers many key benefits, such as improved control over keys, reduced administration costs, and increased efficiency, however, does not stop the one main offender of losing keys – your staff.
Within our own solution, we've taken a holistic view of key management and provided a complete solution. For example, we've built-in security features that alert you to unauthorised key removals and codeless key tags offer another level of security with only authorised users able to see property data.
​
Want to find out how our  software can help your business?


Want to see IRE in action?
Discover how we'll grow your business with our property technology